Today we are talking about uninsured motorists property damage coverage why it is beneficial even if your vehicle already has collision coverage.
First, we do need to take a bit of a detour and look at what collision coverage does. So here we go!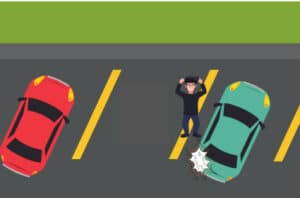 Collision insurance pays for direct and accidental damage to your vehicle when it collides with another vehicle or object, or when the vehicle overturns without involvement with another vehicle or object. This coverage applies no matter who is at fault.
Now let's say your vehicle is a total loss from an accident. Generally speaking, the insurance company is going to pay you market value, meaning the price a willing purchaser would pay for the vehicle prior to the loss. Damage that doesn't result in a total loss is repaired or replaced with parts of like kind and quality. If the damage to the vehicle can be repaired, your vehicle may be worth less after the repairs are made than it was worth prior to the accident. This is called "diminished value" and your collision insurance doesn't cover it.
It's worth mentioning (in order to make a point later), that collision coverage does not pay for you to rent a car while yours is being repaired. Many policies do cover this expense with a separate coverage (if you choose to purchase it) that has a typical limit of $20-40 per day for up to 30 days.
Electronic equipment installed in the vehicle is covered, but some policies only pay up to $1,000 for such equipment.
Collision insurance does not cover any personal items in or on your vehicle that might be damaged, such as a laptop computer.
Finally, some policies do not cover, or limit the amount you can be paid, for custom furnishings or equipment in or on your vehicle. Whew! I hope you are still with me because now we are ready to approach uninsured motorists coverage!
Hooray – we are back on track to our destination! Next stop, uninsured motorists coverage…
Uninsured motorists coverage is designed to put your policy in the place of another person's liability insurance when:
That person has no insurance,
The limits of liability carried by that person are insufficient to cover the amount of your loss, or
You are hit by a vehicle that drives away from the scene of the accident and can't be identified.
Did you know that an estimated 25% of Texas drivers don't carry auto liability insurance? Yep, 25%. Also, many who do purchase liability insurance only carry the minimum limit of $25,000 in property damage liability required by state law. In our area, $25,000 might be enough for some repairs, but likely not enough in event your vehicle is totaled.
When it comes to how much uninsured motorist property damage coverage to purchase, you have options! It is important to carry a limit that will cover a total loss of your vehicle, plus some extra for the reasons listed below. Each insurance policy varies, so it is important to read your policy to verify coverage:
There is no daily or total limit on what you can be paid to rent another vehicle while your vehicle is being repaired. If you own a premium automobile, you will be paid what it costs to rent a premium automobile.
There is no limit on what you can be paid for damage to electronic equipment installed in your vehicle or to custom furnishings or equipment in or on your vehicle.
The coverage pays for damage to personal items in or on your vehicle.
The coverage may pay for the "diminished value" of your vehicle after repairs are made.
For these reasons and more, we recommend that you purchase uninsured motorists property damage coverage even when you carry collision insurance on all your vehicles. Contact us if you have any questions about this or any other aspect of your personal auto insurance
---
This article was made available to our agency by the Independent Insurance Agents of Texas, which is solely responsible for its content. We have customized this article with additional relevant information. Please read your insurance policy. If there is any conflict between the information in this article and the actual terms and conditions of your policy, the terms and conditions of your policy will apply. The Independent Insurance Agents of Texas is a non-profit association of more than 1,500 insurance agencies in Texas, dedicated to helping its members succeed, in part by providing technical resources that explain insurance policies sold to their customers.